Uncategorised
An archive of some of the quilts I have made throughout the years and quilts currently for sale in my quilt shop.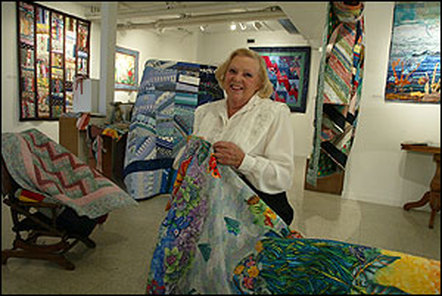 Welcome to my archive of exquisite quilts. Please have a click around and take a look at some examples of the wide range of styles, techniques and themes I work with every day.

​Each quilt is a unique experience, whether created in response to my own creative impulses or commissioned for a client's special request.

I look forward to chatting with you about our next creative project together.

Sincerely,
​Barbara
Throughout this site click on the pictures to enlarge
A BARBARA t-shirt quilt is a work of art. The logos on the shirts are cut out in different sizes and shapes, according to the design of the shirt, not just cut into squares and stitched together.
Sashing, the border to each t-shirt logo, is made from high quality 100% cotton using appropriate small patterned fabrics, not plain broadcloth (which is a lot cheaper but much less attractive). Great care is taken in the layout of the logos. Shape, size, colour value and design compatibility and balance are all given careful consideration. High quality, commercial cotton stabilizer backs every shirt, not fabric store dressmaking stabilizer (which is mostly synthetic and can easily stretch or wear out with time).
The actual quilting is done by a highly qualified long arm quilter not by someone just learning to use their machine. Many beginners offer long arm quilting services before they really know how to use their machine properly.
BARBARA understands that your t-shirt quilt is a valuable keepsake of some of YOUR most precious memories and something you will want to treasure forever. She takes as much care with your t-shirts and your quilt as she would her own.
*** Please note that my home and studio are totally pet and smoke-free. ***
Every precaution is taken to ensure your finished quilt is as allergen-free as possible.
It doesn't matter how many tshirts you have. This quilt is made from 1 shirt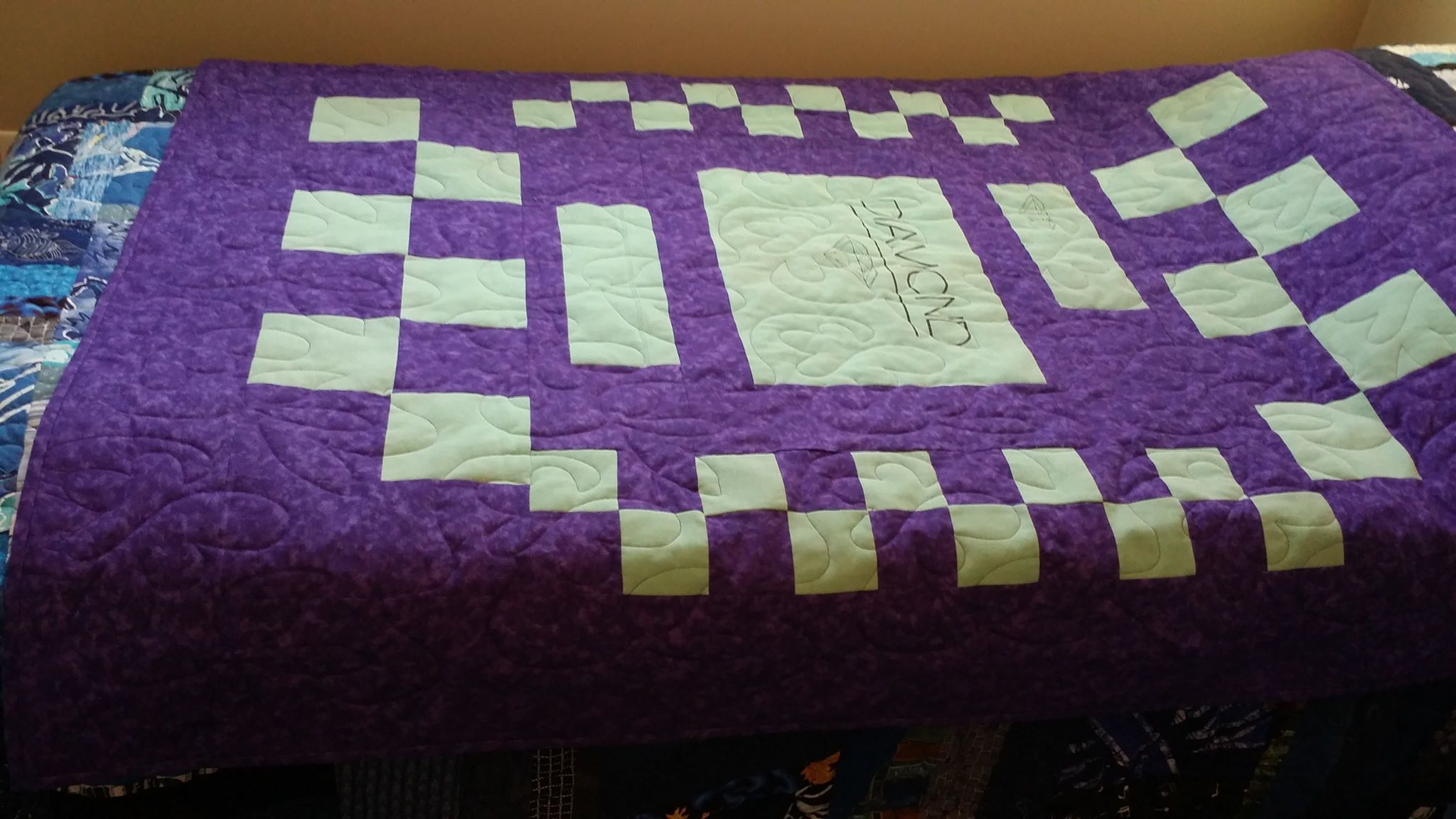 This quilt has 11 shirts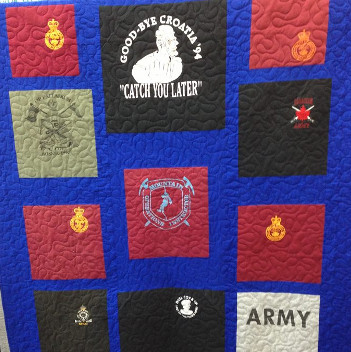 This king sized quilt has over 50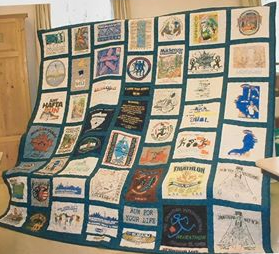 You may find someone to make your quilt at a lesser price; you will not find anyone who can create a comparable work of art from YOUR t-shirts.
These very personal quilts also make wonderful gifts or awards.
Team gift for the coach
Wedding gift
Graduation gift, whether high school, college or university
Memory gift for a grandparent, particularly someone in a retirement home
Just to remember the good times This email address is being protected from spambots. You need JavaScript enabled to view it.
To view more tshirt quilts visit tshirtquiltscanada.com
For only $20 (plus postage) you can have a very special cushion cover with your favourite photograph printed on fabric.
Size 16 or 18 inch square $20.
Larger size $30 plus postage.
Cushion covers have fold over back and are completely washable.
Testimonials:
Janet: Hi Barbara, my mom gave me my new picture pillow yesterday. It's absolutely gorgeous, I love it!!! Thank you. What a wonderful memory. I will keep forever.
Carol: The pillows I got was a Huge hit!
Bonnie: I also got a pillow before Christmas, not only did I love, it, but my mom, the recipient, loved it so much she had to fight tears.
Sue: Hi Barbara, My mom gave me my new picture pillow yesterday. It's absolutely gorgeous, I love it!!! Thank you, what a wonderful memory I will keep forever
Barbara: So happy you like it.
Julie: I gave the pillows to my mother-in-law for Mother's Day. She was so in love with it she almost cried.
"Here are a few samples"
Dogs

Cats

Back of typical cushion

Group Picture

Parent & Child

Children

Babies

Poodle

Child

Memories

Relatives

Siblings

Workmates

Pets

Boxer

Buddies

Friends

Child & Dog

Puppy

Laid Back Pup

Kids

Little Boy

Small Dog

Older Couple

Little Girl

"Don't need a cushion, then how about a fully lined tote bag.

Price $25 plus postage